What is New?

Scholarships are being offered by for Semnar 2014, Silver Needles Golden Threads. The form has been distributed to all chapters and is available on the Forms page.

The 2013 Education Grant reimbursement form is now posted on the Forms page. The $75 grant may be used for any educational event open to the general chapter membership held between January 1, 2013 and September 30, 2013.

Looking for the presentation materials from the February 2013 Officer Training? They are posted on the Meetings page towards the bottom of the page.

You must be a member and logged in to see the presentation.

GPR Seminar 2014, Silver Needles Golden Threads, will be held June 20-24, 2014 at the Golden Nugget in Sparks, Nevada.

The brochure is in the works and a copy will be mailed to each GPR member mid-October 2013. Registration begin January 2, 2014. Full class descriptions and registration information will be available in the brochure and on the Seminar 2014 website.

Registration for the GPR Sponsored GCC for 2013, Fallen Leaves, has closed. The kits were distributed at the June 2013 Regon Meeting or mailed.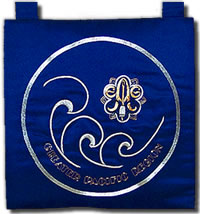 What is EGA?
The Embroiderers' Guild of America (EGA) is an international, not-for-profit organization dedicated to the study and preservation of the art of embroidery. Membership is open to anyone interested in needlework, from the beginner to the professional. Members work within local chapters or a member-at-large network to improve their skills and knowledge. Numerous opportunities are available to learn embroidery and needlework techniques, including chapter meetings, workshops, correspondence courses, certification programs, and national and regional seminars. In addition, we offer free projects, a youth program, a quarterly magazine, and national traveling exhibits.
What and where is GPR?
Greater Pacific
Region (GPR) is one of thirteen regions within EGA and encompasses northern California, northern Nevada, Oregon, Washington, British Columbia, Alaska, and Hawaii. Membership is open to anyone with an interest in needlework. We have a very diverse membership ranging from those who are beginning their first stitching project to people who teach internationally. We all have in common an appreciation of the art of stitchery and an insatiable desire to learn and share with our fellow stitchers. Individual Chapters offer educational programs and resources such as an informative newsletter, embroidery libraries, embroidery workshops, shorter projects and informal gatherings. Your membership entitles you to participate in National educational opportunities such as seminars and correspondence courses, and you receive the quarterly magazine Needle Arts.
You may belong to one or more chapters, or you may be a member-at-large. A complete list of Greater Pacific Region's chapters appears on the Chapter page. Most chapters welcome your membership even if you don't live close enough to go to meetings. Some GPR chapters, such as Rose City Stitchers and Vintage Stitchers, have special programs for long distance members. Each chapter belongs to a region such as Greater Pacific Region, which serves all chapter members and members-at-large in the region and coordinates inter-chapter activities. Your chapter dues include your national membership dues, and a small portion of your chapter dues funds the Region organization.