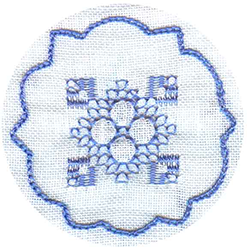 Technique: Pulled Thread
Stitched by: Donna L
The GPR Officers' Handbook lists the current chapter officers and is updated prior to each region meeting.
The Region Representatives' Notebook contains information about EGA's organization structure, region meeting procedures and responsibilities, audit and financial guidelines (including IRS determination of Tex Exempt Status), recordkeeping requirements, and more. It was developed to help chapters find important information they need in a single resource.
You must be a member and logged in to view the Officers' Handbook and the Region Representatives' Notebook.