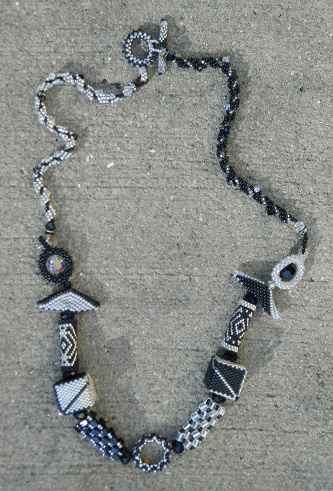 GCC: Keeping in Shape
Instructor: Gwen Nelson
Each year, GPR sponsors a Group Correspondence Course for its members, paying the course fee for all students. Each student is responsible for paying for her text and project materials. The Education Chair, along with members of the Executive Board, selects a project from the EGA Group Correspondence Courses. The Education Chair handles the registrations for all participants, appoints a group coordinator for each group of students, distributes the course texts, and works with the group coordinators to collect the finished (or partially finished pieces) to ship the instructor for evaluation and then distribute them back to the students.
2018 GPR Sponsored GCC
Keeping in Shape with Gwen Nelson
Keeping in Shape was originally called Keeping in Shape with EGA. The teacher designed this necklace for the region directors to bead and submit to the live auction at the 2009 EGA National Seminar. The thirteen three-dimensional geometric pieces represent the thirteen EGA regions.
The finished necklace includes an assortment of triangles, circles, rectangular solids, cylinders, and cubes. The student uses various techniques to make the geometric shapes, including circular and flat peyote for some shapes and herringbone for others. Some of the pieces include a combination of beading techniques. The strap is a spiral rope of seed beads and Swarovski crystals. Embellishments include Swarovski crystals and rondelles.
Important Dates: